No one enjoys wearing a mask … but if you have to do it, you might as well fight back against cancer at the same time.
As part of the annual SmashCancer event, members of the Delta girls' tennis team have handmade more than 200 masks that say 'SMASH" or "MANN UP" in a variety of colors.  These masks go on sale today (Wednesday, April 14) during lunches at DHS.
Masks are $5 apiece, with 100% of the money going to the local cancer organizations supported by SmashCancer.  Payments must be cash or checks payable to Delta HS.
About 25 members of the tennis team made the masks during six hours of work during the past week.  This included cutting the fabric, pinning the masks, sewing, trimming and applying the iron-on words.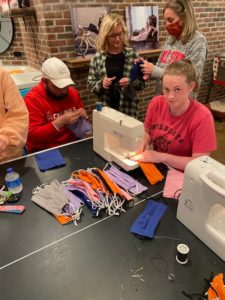 The SmashCancer match is Tuesday, May 4th against rival Yorktown at the Delta courts.  The teams are selling a variety of multi-colored apparel through an online store.  The address is http://2021smashcancer.itemorder.com
More than $41,000 has been raised through the Yorktown-Delta SmashCancer series.  The beneficiaries include the Cancer Center at IU Heath Ball, the Little Red Door Cancer Services of East Central Indiana, the ACS Relay for Life, and more.
Contact coach Tim Cleland at tcleland@delcomschools.org for more information about SmashCancer.